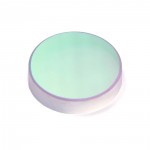 The 1030 nm Ytterbium-doped fiber laser oscillator converted at 515 nm is delivering femto pulses.
Opto4u Femtosecond Mirrors offer high reflectivity and have a controlled group delay dispersion (GDD) profile optimized for femto lasers ( pulse > 50 fs ).
The mirrors, based on single stack design, give best performance with last generations of ultrafast lasers for scientific and industrial applications.
Single stack  dielectric coating

R >99.5% @515nm/45˚

Insoluble in solvents

Material – Fused Silica

Lambda/10 flatness substrates

S&D 10-5

Inspection polish back surface

2 arc minutes parallel

LDT  > 100W average power
More