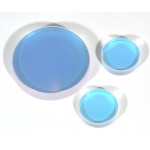 OPTO4U is pleased to announce that a range of optics for ultrafast applications is now available from stock.
Manufactured on the isle of Man by our partner MPO, the new mirrors cover 750-850nm under 45º incidence P-pol and 740-860nm under 0º as standard. The coating design takes into account the need to minimize the GVD (<25fs2) and is suitable to be applied to larger substrates without compromising vacuum compatibility.
The mirrors offer a superior Laser-induced damage threshold and are suitable to be used with both Gauss and Supergauss-shaped pulses. All our optics come with a measured spectral and GVD curve.
More